This post brought to you by Atlantic Luggage. The content and opinions expressed below are that of Life in a House of Testosterone.
The holiday season is right around the corner, and you know what that means – travel! Families will be making travel arrangements to go home for the holidays, to visit grandma and grandpa, or just taking a trip out-of-town to escape the crazy that is the season!
Atlantic Luggage knows this, and they are running an amazing sweepstakes where you have the chance to win a family trip for four to your choice of either New York or San Diego! Because life is a trip®, Atlantic Luggage is sending you on the trip of a lifetime! So, register for your chance to win a trip for the family today!
Sweepstakes Details
Entering is super easy! The sweepstakes runs 10/15/2014 through 11/15/2014. The winner will be chosen within 7-10 days after the close of the sweepstakes. Grand Prize trip must be book by 9/30/15 and travel must be completed by 10/31/15.
Grand Prize Package Details:
Grand Prize package trip certificate is valid for: (a) round-trip economy air transportation valued at up to $450 per ticket for the Grand Prize winner and three (3) guests from a major U.S. airport serviced by Delta Air Lines near to the Grand Prize winner's home (as determined by Sponsor), to a major U.S. airport serviced by Delta Air Lines near New York City or San Diego, CA (as chosen by winner and determined by Sponsor); (b) hotel accommodations at a participating Delta Vacations hotel in New York City or San Diego, C; (c) four (4) Atlantic® carry-on sized suitcases; and (d) $300 allowance to spend on their choice of Delta Vacations Tour or Activity packages.
Trip is to last three days and two nights
Total prize value of $3,700
Check out these beautiful luggage pieces from Atlantic Luggage: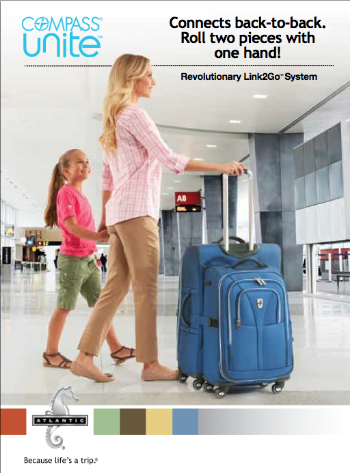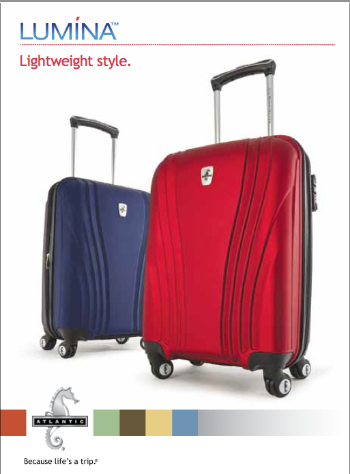 Atlantic Luggage Link2Go™ System
You will be amazed how much you can fit into each piece, ridding you of the hassle of multiple pieces of luggage to carry or to worry about in the airport. Atlantic Luggage has innovative features such as the Link2Go™ system, which allows you to connect multiple pieces of luggage for easy one-handed rolling. Or, their 360-degree 4-Wheel Spinners allows for easy guiding and steering through busy terminals. Atlantic Luggage has thought of it all, taking the struggle out of traveling for the family.
Packing For Your Trip
Packing doesn't need to be an issue, especially when the entire family is going. Here are some general packing tips to keep in mind using a five-day trip as our example.
Step 1: Have everyone gather their items that they will need. You will need about five shirts, two pairs of jeans, and one skirt/dress.
Step 2: Choose what will not wrinkle. Choose knits, wools, and cottons. Generally these resist wrinkles and some garments can do double-duty, like a shirt that can go from day to night with a few accessories to jazz it up.
Step 3: Roll Don't Fold. Rolling items such as underwear, t-shirts, and jeans will not wrinkle if rolled tightly and will save you huge amounts of space. Items such as blazers and skirts should be carefully folded.
Step 4: Arranged rolled garments at bottom of the bag. Putting the rolled items at the bottom of your bag makes the 'foundation' for the rest of your items.
Step 5: Place the clothes you will need first on top. If you are going to need a change as soon as you arrive, put those items on the very top of your suitcase so you don't have to dig through the layers to find what you need.
So start planning that family vacation now, and enter the Atlantic Luggage Sweepstakes before November 15 for your chance to win!